CHRISTOPHER SEED is an international concert pianist – with a difference. He can play the piano both normally and in mirror-image.
In 1997, he commissioned the Dutch firm Poletti and Tuinman Fortepiano Makers to build the world's first left-handed piano. A complete mirror-image of a 19th century fortepiano, the high notes begin on the left and move down in pitch towards the right. The lid opens from the opposite side, and the pedals are reversed. Christopher sits on the other side of the stage to ensure that his left hand and the lid are facing the audience. Being left-handed, and with the keyboard reversed, he can now play more of the melodic and elaborate parts with his dominant hand. Not only does this give him a physical advantage, but it is also a more instinctive way of playing.
The instrument has received a huge amount of media and public interest, and was exhibited at the International Early Music Festivals in Bruges (1998) and London (2001).
Christopher Seed gave the launch concert at the Queen Elizabeth Hall, London in 1999. The performance received a standing ovation, and led to interviews and live broadcasts as far away as Japan, New Zealand, Canada and South America. Highlights include BBC World News, Fox News (USA), Tomorrow's World Plus, Radio 3 In Tune, Radio 4 Today programme, Front Row, and articles in The Times, The Independent, The Observer, Die Welt, The New York Times and Classical Music. Other appearances have included the Geelvinck Hinlopen Museum, Amsterdam, and three concerts at the Musical Instrument Museum, Brussels opening festival - the first televised in the presence of the Queen of Belgium. Since then, he has continued to perform in concert, on television and radio to critical acclaim and to be in demand both as a concert pianist and broadcaster. Recent highlights include recitals at Wigmore Hall (May 2002) and for the Cardiff Early Music Series (January 2003) and City Music Society (April 2003).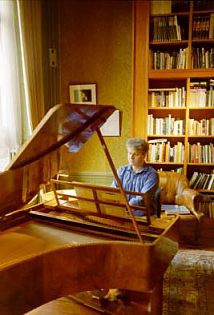 Christopher Seed practising on his
Left-Handed Piano
Christopher's CD release on the Olympia label received very high praise : "He plays with total command and freedom..... an individual pianist on a very special instrument.....to date, the best recording of the Eclogues" (Fono Forum, Germany).
A graduate of the Royal College of Music, London, where he studied from 1982 to 1987 with Peter Element and John Barstow, Christopher later studied privately with Christopher Elton and Alexander Kelly, taking part in masterclasses with Pascal Rogé, Menahem Pressler and Paul Badura-Skoda. He made his professional recital debut in 1990 at St.John's, Smith Square. Yonty Solomon, writing in Music and Musicians, described his performance as having "mesmeric charm, intimacy, involvement and bravura aplenty..... a serious, thinking musician". Christopher has given other solo recitals at St.John's, Smith Square and the Purcell Room, duo recitals (The Fool's Progress) at the Edinburgh Festival, Bath Festival and Wigmore Hall, and concerto performances at venues including Snape Maltings Concert Hall. In 1995, he was selected to appear in the Queen Elisabeth International Piano Competition televised masterclasses in Belgium. Christopher Seed has just completed ten years of teaching at Winchester College, and continues to work as an international examiner for The Associated Board of the Royal Schools of Music.
"The unique instrument is a fine non-strident reproduction of an 1826 Graf..... left-handed Chris Seed plays this repertoire with sensitivity and particularly good tonal control....." Igor Kipnis, International Piano Quarterly
"Whichever hand one claps with, Mr.Seed's invention deserves enthusiastic applause" The Times
"If a left-handed piano can elicit music-making like this, let's have more of them...." Early Music News