CHRISTOPHER SEED is like any other pianist; he plays the piano. However, the piano that he plays is far from the ordinary. He has built a piano with the keyboard in reverse (with the treble register beginning at the left hand side and ending with the bass register at the right). The reason - he believes (quite logically) that his left hand, and indeed the whole left side of his body, is much more expressive and agile than his right. Because most piano music is written with the melody in the right hand supported with chords in the left, if you turn this around and swap hands it makes much more sense to a left-hander. The only practical way of doing this is to build the keyboard in reverse. Chris hopes that this will set a precedent for a future generation of left-handed pianists. This new keyboard could uncover a whole new wealth of talent in the world of music.
Chris has already received a huge amount of media and public support, with interviews on BBC Television - Put It To The Test and South Today, BBC Radio - including The World Service and The Today Programme, Classic FM, National Public Radio USA, Tokyo Today, and radio stations in Canada, Australia, New Zealand, Holland and Germany. There have also been articles in The London Times, New York Times, Die Welt, Dutch Telegraph, the Melbourne Herald, La Presse Montreal, BBC Music Magazine, Classic FM Magazine, various regional publications, and much of this before the instrument had been finished.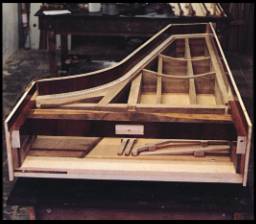 The world's first left-handed piano
in its early stages of construction
The instrument was built by Poletti and Tuinman Fortepiano Makers of Holland, one of the finest firms in the world. It is a mirror-image piano based on an instrument built by Conrad Graf in Vienna around 1826. The left-handed piano was completed in the summer of 1998 and exhibited at the Bruges International Music Festival from 27 July to 1 August 1998. Because it is a fortepiano and much lighter than its modern counterpart, it is easily transportable and therefore Chris will take it with him wherever he performs.
Bookings are now being taken for concerts, exhibitions and other promotions. If you are interested, please contact us.