Make your keyboard right for you by making it left-handed.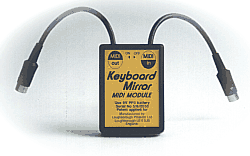 A simple plug-in module that converts your electronic keyboard to a "lefthand" arrangement. The Keyboard Mirror changes all the note values so that the highest notes are at the left of the keyboard, and the lowest notes to the right.

The Keyboard Mirror is a small battery powered module with two short leads fitted with standard MIDI connectors. The leads plug into the MIDI IN and MIDI OUT sockets at the back of your keyboard. Switch on the module, turn the keyboard "local off", and play.

The Keyboard Mirror only works with electronic keyboards with MIDI and a "local off" facility. (Older keyboards may not have a "local off". Please ask for further information).

The Keyboard Mirror works by instantly converting the note value of any note (or notes) played. The note values are sent via the MIDI OUT and converted to the "mirror" opposite values, based around the centre note value of middle D. The module sends back the converted note values via the MIDI IN to the keyboard, which then plays the new value through its speakers.

Please contact us if you want more information (details on our "Contact" page).

Sorry, the Keyboard Mirror MIDI Module is currently out of stock.